Welcome to the Raising Hope Wiki
We launched on October 27, 2010 and are currently editing 165 articles and 628 files.
We are a collaborative community dedicated to providing our visitors with detailed information on all the different aspects of the Fox sitcom Raising Hope, including episodes, characters, locations, and much more. This is a fanmade site, and therefore any visitor is free to edit and add any information they have about the series to these wiki pages.
Check out our Policies and Rules!
About the Show
Main article: Raising Hope
At 23 years old, Jimmy Chance is going nowhere in life. He skims pools for a living, parties every night and still lives at home with his family, including his Maw Maw, his mother Virginia and his father, Burt.
Jimmy's life takes a drastic turn when a chance romantic encounter with a woman goes awry once he discovers she is a wanted felon. Months later, when Jimmy pays a visit to the local prison, he discovers Lucy is pregnant with their baby, and after she gives birth and is later executed, he is charged with raising their daughter.
Back at home, Jimmy's family is less than enthusiastic about a new addition to the household. His parents, who had him when they were 15, never knew anything about raising a child and seem to have no interest in trying again. Jimmy thinks he may be able to get some help from Sabrina, a sardonic checkout clerk he met at the supermarket, if only he can work up the nerve to ask her out. Despite all of this, Jimmy is determined to take care of his baby - whom Virginia thinks they should name Hope.
Featured Episode - August 2022
"
Burt Rocks
"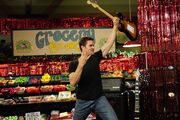 Season 1, Episode 10
Burt gave up on his teenage dreams of being a rock star because he was a parent. Jimmy feels so guilty for ruining his father's dream that he gets Burt a second chance to relive his rock fantasy with his musical idol at the upcoming Grocery-Palooza concert.